Unlock the Power of ProjectContexts with Our 30-Day Free Trial.
No Credit Card Required. Enjoy All Features and Get 5 Standard & 5 Basic Licenses
Are you ready to revolutionize your project management? ProjectContexts invites you to explore the full spectrum of our powerful tools with our no-obligation 30-day free trial. Experience the difference, no strings attached.
Benefits
Full Access: Enjoy every feature, unrestricted.
Generous Licenses: Get 5 Standard and 5 Basic licenses during your trial.
Zero Commitment: No credit card required.
Data Security: Keep all your data after the trial.
Flexible Pricing: If you choose to continue, our pricing model is designed to suit your needs.
How it works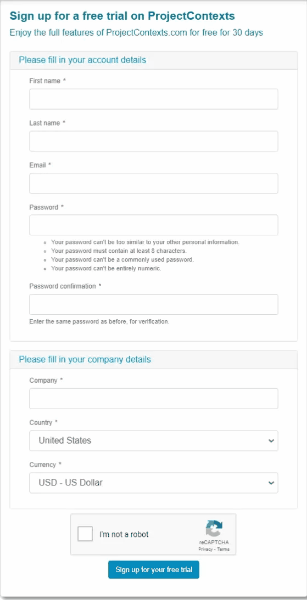 Sign up for your free trial.
Dive into all features, no limitations.
Explore the power of ProjectContexts.
Keep your data when the trial ends.
If you love it (and we think you will), choose your licenses.